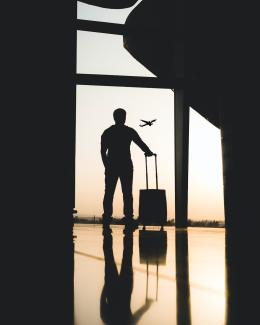 Avoiding Travel Nightmares
The Wall Street Journal, 5/25/23, ran a picture of the world's largest passenger cruise ship, a massive vessel that can carry 7,084 guests. It boasts 18 decks and 2,867 staterooms. The headline underneath the picture in unflattering prose proclaimed, "Summer Cruise Travelers Get Packed Like Sardines." The Journal advised, "Expect long lines, sold-out excursions and stressed crews; in some cases would-be passengers are bumped due to overbooking." That seems like the seagoing version of the 1979 hit song, "Highway to Hell," by the Australian rock band AC/DC. Ship to hell????
The same issue of the Journal also headlined, "Airlines Take Steps to Avoid Summer Chaos." Who can forget the dysfunction of the not-so-distant past of mass cancellations, seas of lost luggage stranded at airports, and stories of ruined vacations and special events. How do you avoid travel nightmares and costly surprises? Planning well in advance, and with the help of a seasoned travel agent. A good agent can help you to plan a great trip within the parameters of your budget and time constraints.
This writer traveled from Atlanta to South Africa for a safari-oriented tour of South Africa, to Zimbabwe for Victoria Falls, and with forays into Botswana and Namibia. Delta flies nonstop from Atlanta to Johannesburg several times a week. The flight takes about 15 hours and twenty minutes. Expect to be on the plane for about 16 hours. Depending on the departure times of your outbound and return flights, per person expect to pay about $2,179 in the main cabin (coach), $4,362 in Premium Select with more comfort, and $7,827 in the Delta One lay-flat-bed seats in the front of the plane. Obviously, if you have the funds, and/or frequent flyer miles to help cut the cost, go for comfort. But flying coach is fine if you want the destination experience and have limited funds. The key is to "get out there." That goes for any destination on the planet.
My wife and I made many long haul trips in coach and one option is to buy seats that are aisles across if you don't want to climb over someone, even a loved one, in the middle of the night to get to the restroom. Check the website seatguru.com for cabin layouts for all major airlines, and/or your specific flight. The site will pinpoint good and less-than-good seats, for example, seats with no window, too close to the lavatory or galleys, partial blockages under the seat in front of you, seats with no or limited recline, etc.
Say, you're flying to Europe and want to splurge. Going over on a night flight, you may opt for lay flat beds in the front of the plane. Coming back on a daylight flight where sleeping is less important, you may opt for the carrier's version of premium economy for significant savings. Carriers with the premium economy cabin between coach and first or business class up front, offer a more spacious seat with greater recline, and upgraded food and beverage packages. That's a good option if up-front is too pricy on any trip.
Cruise ships come in all sizes with "personalities" to match. Again, a seasoned travel agent can match your personality, travel dream, and budget to the right ship. If family is involved with little children or teenagers, certain ships may fit your needs. Older travelers may not crave waterslides and cartoon characters running around the decks, preferring a different experience on a smaller more intimate vessel known for outstanding cuisine and refined service. Right now luxury travel on smaller more elegant ships in the small to mid-sized category are hot. Suites and higher style more roomy cabins sell out quickly.
Several cruise lines such as Ponant, Silversea, Seabourne, Viking, National Geographic, and others, offer luxurious small ship cruising in exotic locales. Expedition cruises to places like the Arctic, Antarctica, the Indian Ocean, Arabian Sea, the wild KimberleyCoast in South Africa, featuring Zodiacs, naturalists, and guest lecturers along with comfortable cabins and great cuisine are increasingly popular.
Other outfitters may organize treks to see mountain gorillas, climb mountains, ride bikes in unique and scenic locales, hike renowned trails such as the Milford Track on the spectacular south island of New Zealand, photography trips, dive trips...if you can dream it, there's probably an outfitter or guide out there somewhere.
If cruise ship excursions are sold out, you can always hire your own guide. See viator.com and toursbylocals.com to find experienced and vetted local guides. If you are not on a ship arranged tour, you are responsible for getting yourself and your party back to the ship on time. If you're going to book ship tours, do so early. Don't wait until you're aboard the ship. Many tours in popular locales in Europe for this summer are already sold out. If you want to see a popular attraction, such as the Eiffel Tower in Paris, Antoni Gaudi's stunning Sagrada Familia in Barcelona, or renowned museums, buy a skip-the-line tour from Viator or some other operator, or you are not likely to get in given summer crowds.
Everyone has travel dreams. Don't say "someday," because that means you really haven't decided to do it. If you don't have the money, establish a travel savings bucket and work toward your goal. "Someday" may never come due to illness or other happenstance. Get out there!