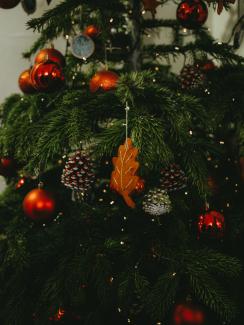 December Darkness and the Gift of Light
Dur
During the storms of November, power outages in the Atlanta area were common. We take "light at the flip of a switch" for granted, until it isn't there, as we scramble for candles and flashlights in the dark.
The Winter Solstice, December 21st, marks the official start of winter in the Northern Hemisphere this year. The winter solstice is the day with the least amount of daylight, the "shortest day of the year." As the tilt of the earth changes each day we see a bit more daylight. While not understanding the science behind it, observing the sun's path across the sky, ancient people knew that the timing and location of sunrise and sunset shifted in a patterned way during the year. Acknowledging an observable but confounding power, they built monuments in tribute, Stonehenge in England, Machu Picchu in Peru, the Pyramid of the Sun in the ancient city of Teotihuacán, Mexico.
In a world before electricity, bonfires, candles, and oil lamps illuminated gatherings and celebrations. During the darkest months of the year, festivals centered on illumination, warmth, and community, traditions carried forward to today in various cultures. Christians celebrate the season of Advent, four Sundays and the weeks before Christmas to herald the coming of Jesus Christ as The Light of the World. Advent means "coming" in Latin. Candles on the Advent wreath are lit on successive Sundays.
Hanukkah, Hebrew for "dedication," is the Festival of Lights, celebrated this year from December 10 to December 18. Following a victory over the Syrian Greek Army, while rededicating the Holy Temple in Jerusalem and restoring its menorah, or lamp,  one vial of oil was available, only enough fuel to last a day. Miraculously, the oil lasted  eight days, a marvel celebrated to this day. Just as Christians light an Advent candle each Sunday until all four are giving forth light, observant Jews light the menorah, each night lighting one additional candle until all eight burn brightly.
Perhaps the lights of Hanukkah and Christmas will mean more in this season of pandemic restrictions. Over Thanksgiving, roughly 50 million people took to roads, rails, and sky in a quest to join family in celebration. Christmas travel may be even greater, despite health risks. We are social beings and family and friends seem to mean more this year. Like light giving electricity, we notice and miss contact with loved ones and dear friends all the more when gatherings are deferred. 
Acknowledging and mourning the loss of so many from the insidious virus, we take special joy in the family and friends we can see as we end 2020. With vaccinations coming, already we are considering trips, deferred reunions, "bucket list to-do's." Forecasters think it may be 2022 before the travel and hospitality industries begin to even approach some semblance of normal. It may be mid-2021 before vaccinations are widespread and along with growing herd immunity, the virus is under an acceptable degree of control so that we feel relatively safe in travel. Nevertheless, start researching and planning family reunions, milestone gatherings, that dream trip. With deferrals from 2020 and early 2021, availability could get tighter than we might imagine.
Any threat to our physical and/or financial wellbeing like a pandemic, ignites a flurry of "what if?" planning. Estate planning attorneys were very busy in the latter part of this year as people scrambled to create or update comprehensive living and testamentary estate plans. We may know those who were very sick or died from the virus or related complications. A little voice in your head asks, "What if that happened to me? Where would that leave the people who love me, who depend on me? What if I died? What if I was incapacitated for a time?" What do you need to review or put in place?
The religious observances of December remind us of the role of God in our lives and lessons as to how we are to live our life, love and care for others, develop and use our gifts and talents to serve Him and others, and care for the planet on which we travel. 
The light from the sun is absolutely critical to sustaining life as we know it. In this season of Advent, Hanukkah, and Christmas, say a prayer of thanks for the gift of light. The rising sun is a daily miracle in and of itself!