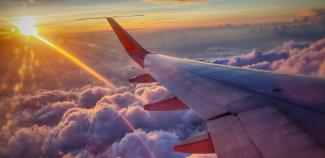 December Insights - Market Recap
Cruising at 30,000 feet
November was a standout month for stocks, as illustrated by Table 2. The major U.S. stock market indexes recorded new highs, including the smaller-company Russell 2000 Index, which had a stellar month.
Table 2: Key Index Returns
 

MTD %

YTD %

Dow Jones Industrial Average

11.8

3.9

NASDAQ Composite

11.8

36.0

S&P 500 Index

10.8

12.1

Russell 2000 Index

18.3

9.1

MSCI World ex-USA**

15.2

0.7

MSCI Emerging Markets**

9.2

8.1

Bloomberg Barclays US

Aggregate Bond TR

1.0

7.4
Source: Wall Street Journal, MSCI.com, MarketWatch, Morningstar
MTD returns: Oct 30, 2020-Nov 30, 2020
YTD returns: Dec 31, 2019- Nov 30, 2020
*Annualized
**in US dollars
In particular, the better-known Dow Jones Industrial Average eclipsed 30,000 for the first time ever. It has been an impressive rally from March's low, when the economy was locked down, unemployment was soaring, and the economy was contracting at its fastest rate in history.  The DJIA was published in 1896, according to the Library of Congress—Business References.  The index first topped 100 in 1906, reached 1,000 by 1972, 10,000 by 1999, and 20,000 by 2017, according to LPL Research and data from the St. Louis Federal Reserve.
Landmarks have come at a faster pace given that the percentage gain to reach the next key marker declines. No one knows when we might hit 40,000, but a 33% advance is what's needed to push the Dow to the next milestone.  In a broader context, what does this tell us? Stocks have a long-term upward bias, which is a piece of the well-diversified plan we recommend for you.
History repeats itself
Of course, markets don't climb in a straight line. Volatility is inevitable. That goes without saying. March's decline was short, but violent.  However, as we've repeatedly witnessed, market corrections and bear markets eventually come to an end, and major market indexes climb to new highs.
Catalysts during November
A bitter election is over. We have a new President. Whether you are jubilant, bitterly disappointed, or somewhere in between, a big unknown has been erased.   Talk of civil strife pre-election didn't materialize. We have a degree of certainty where uncertainty once existed. The election removed a hurdle for investors, and the prospect we may have divided government also cheered investors.  In addition, the announcement of at least two vaccines for Covid-19 received a very warm welcome from investors.
Let's back up a moment. So far, the economic recovery has been far more robust than nearly every economist has anticipated. Yet, problems remain.  With new vaccines, beaten-down sectors such as leisure, hospitality, travel, and the broad-based service sector have a fighting chance to recover next year. But success is dependent on approval of the vaccines, and acceptance and a quick rollout to the public.  Though we may see more volatility, the straightest line to your financial goals hasn't changed. The financial plan is still your roadmap forward.
I hope you've found this review to be educational and helpful. Once again, before making any decisions that may impact your taxes, please consult with your tax advisor.  Let me once again emphasize that it is my job to assist you.  If you have any questions or would like to discuss any matters, please feel free to give me or any of our team members a call.