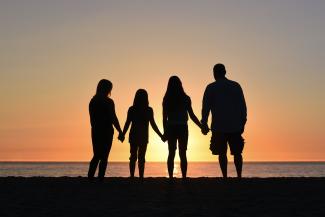 Family Adventures and "GranTravel"

    As the Covid-19 second wave continues to tax patience and sanity, and for some, mental and physical health, the need for social interaction, particularly with loved ones, looms larger in our psyche. Pundits forecast pandemic-driven changes in behavior with long term implications, especially for older folks who are reframing many facets of retirement planning and the challenges of aging.
    The baby boom morphed into a 70 million plus grandparent boom, now impacted by a pandemic double whammy. Those who love travel have canceled trips, and with more time available, haven't been able to see adult children and grandchildren as much as they'd like. Some report saving money given funds not spent on dining out, visiting, roaming. The implications of aging, potential illness and decreased mobility, "the ticking of the clock," scream, "Do it now!" How old will your grandchildren be in 2022? 2023?
    Assume sometime in 2021, most who want to be vaccinated for Covid-19 will have done so, and travel will be back to some semblance of normal by at least 2022. Expect pent-up demand for travel to constrict booking availability, especially for more popular locales and adventures. "GranTravel," grandparents taking grandchildren, and perhaps the whole family, will accelerate a trend already evidenced before the shutdowns.
    National parks and scenic locales will be popular, as will beach resorts and theme parks. All-inclusive resorts are a plus, especially for eaters of various ages. This writer has enjoyed Club Med family resorts which offer a wide range of activities for both adults and children. Your travel agent can suggest companies that cater to family and grandparent organized trips and adventures...Disney, Western River Expeditions, Backroads, Road Scholars, Global Community, Tauck Family Tours, to name a few. Definitely use a travel agent as he or she can match the family profile, including budget and physical capability along with varied interests, with possibilities. Companies like Audley Travel, with offices in Boston, offer tailor-made family adventures, safaris, wildlife and cultural trips.
    The beauty of a local travel agent is that he or she can interface with companies like those noted, and others. Cruise ships may be an option, but specific vessels have "personalities" and you want to match the ship with the ages, energies, interests, and physical abilities of family members. The agent can work with entities like Delta Vacations if air fare is part of the budget to snag discounts and/or frequent flyer miles.
    For international travel to exotic locales check with your doctor, companies like Passport Health Travel Clinics, or the CDC web site for medical recommendations by destination. Most likely proof of Covid-19 inoculation will be de rigueur.
    Grandparents traveling with grandchildren sans parents, make sure you have all required travel documents, including health insurance cards and a notarized medical release form in case the child needs medical care. Out of the country you'll need passports and authorization to take children across international borders. Include a summary of the itinerary plus contact information for both parents, ideally notarized. Authorities are on alert for child traffickers. Immunization records may be needed. Lists of prescription medications, emergency contact information, and color copies of the "We the people" personal information pages of each passport kept apart from the passport itself, are recommended. Understand how cell phones and other electronic devices will be used. Roaming charges kill budgets! Remember power converters for foreign countries. 
    The lockdowns have prompted people to ponder God's gift of time on earth, recognizing that only He knows how much sand is left in our hourglass. Realize that spending time with children is more important than just spending money on them. There are only 365 days in a non-leap year. "Someday" isn't one of them.  
A child has eighteen short years before official adulthood. Childhood wonder is a fleeting gift. Capture it while you can!