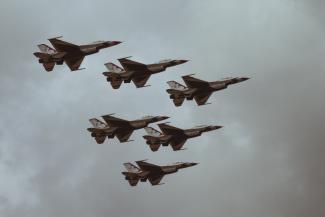 Home From War and Adjusting to a New Normal
This column was written on Veterans Day, November 11, 2023. Fifty-nine years ago, in 1964, I was a young Air Force officer stationed at Tan Son Nhut Air Base in Saigon, Vietnam.  The day before this Veterans Day, a special Mass was held at St. Brigid Catholic Church in Johns Creek to honor veterans. A reception followed at Holy Redeemer Catholic elementary school. At the reception, a little girl handed me an adorable handmade card as she said, "Thank you for your service." Inside a note read, "Thank you for protecting our schools, neighbors, and most of all, us!" The card is a keeper; the sentiment, much appreciated.
On Thursday, November 9, 2023, a Wall Street Journal (WSJ) article entitled "Your New Co-Worker Is a Total Drill Sergeant," subtitled, "Companies hungry for new recruits line up to hire military veterans," commanded my attention. Callum Borchers, the writer of the piece noted, "Veterans and companies that recruit from the armed forces say vets' appeal is rooted in hard work, humility and attention to detail. Many a manager has complained to me that such qualities are hard to find in the age of quiet quitting and coffee badging." The "coffee badging" trend is a way that workers use to get away from return to office mandates. A piece on forbes.com noted that employees show up at the office to have a cup of coffee, be seen, and "earn an imaginary badge for it, then go home to do their work."
This writer serves as vice-chairman of the board of a financial services company headquartered in Atlanta. The CEO has been wrestling with how to get folks back into the office in our post-pandemic era where "what was" does not seem to be "what is" currently. While adjusting to new realities post-Covid is not the same as "coming back into the world" after a tour of duty in a war zone, there are parallels.
Out of college less than two years, and a Transportation Officer in the U.S. Air Force at Lincoln Air Force Base, Nebraska, in late November, 1963, I left for Vietnam. After some training in the Philippines on the realities of guerrilla warfare and the ever present threat of terrorism, what the Israelis are dealing with today, by the way, I was stationed at Saigon's Tan Son Nhut Air Base, the gateway to South Vietnam at that time. The base shared runways with the civilian airport and was the headquarters for the Vietnamese Air Force and Military Assistance Command Vietnam. While not a pilot, I flew trips each month on C-123 aircraft to supervise deliveries to bases in the delta to the south and to the north, many of which were composed of dirt and clay air strips. Because we lived under the constant threat of bombings in town, attacks by the Viet Cong, and aircraft being shot at, I received hazardous duty pay.
In short, I learned quickly that the world was not one big cocktail party. I had to show up, do my job, and stay at the base for long hours if need be. I learned to make quick decisions, often under pressure, and perform as if lives depended on it, because they did. When given an order by a superior officer, the only answer was, "yes, sir." When I gave an order, I expected the same response. Salute and be saluted. If I had told my superior officer that "I really don't think I want to show up for the war today," I'd have received a response totally unprintable in this newspaper. Between December, 1963, and December, 1964, I grew up. Fast. I did not see it then, but my military experience was a gift that was of incalculable value after I returned to civilian life.
When you're in a war zone, all you think about is survival and getting home. While I won't get into details, there were times in Vietnam when I seriously faced the reality that "I could die today." There are some reading this that faced the threat of death from Covid, and/or who had loved ones or dear friends plauged by the disease. Some of you had loved ones on ventilators in hospitals. Those who recovered are just glad to be alive, appreciative of the gift of life. All of us that went through Covid have had to adjust to a new normal of some kind. While going back to the office or job site post-Covid is not the same as coming back from a war zone, there are similarities.
Adjusting to a "new normal" of any kind, post-war zone, or post-Covid, is new, yes, but it isn't normal. It's hard to go back to "what was." But for many, going back to the office or other workplace is important. It's where you learn teamwork. It's where you grow and learn from others. It's where you get noticed, important when promotions are considered.
Employers should look for ex-military recruits. Many are glad to be home. They are proud of their service, proud of our country, proud of their families, and proud to be a breadwinner in the greatest country in the world. Don't believe we are the greatest country in the world? Spend some time in a war zone, or in a third world country.