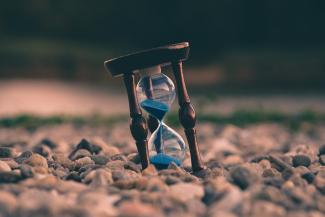 O Death Where Is Thy Sting?
"O death where is thy sting?" That provocative query often is attributed to William Shakespeare, who frequently focused in plays and sonnets on the tragedies associated with death and dying.
The quote, however, is not from the Bard of Avon, but from the Bible. First Corinthians 15:54-57 declares, "Death is swallowed up in victory. O death, where is thy sting? O grave, where is thy victory? The sting of death is sin; and the strength of sin is the law. But thanks be to God, which giveth us the victory through our Lord Jesus Christ."
In Shakespeare's Sonnet 71, the speaker urges a lover not to dwell on the speaker's death but to instead move on with life once the speaker is gone. Failing to do so, the speaker argues, will bring only misery and pain. The grieving process is different for everyone. But eventually, one must move forward.
We know that we will die, but thinking about death is a "downer." In fact, for any complex conundrum involving life and aging, our default mechanism is to procrastinate when it comes to planning. But when "out of the blue" we are seriously hurt or ill, or deceased, someone will have to wrestle with the complexities of the matter.      
Guys, eighty percent of men who die are married. If you wake up your spouse at 0-dark-thirty, as we said in the military, complaining of intense pain and nausea due to a possible heart attack or stroke, the first call your partner will make is to 911 to get you to the hospital. Once you're stabilized, who is going to get the second phone call?
Having asked couples that question over the years in planning sessions, most of the time if there's an adult daughter in the family, she's going to get the call. Yes, it may be a son, or a close friend, but someone is going to get startlingly disturbing and life disrupting news. Lack of advance planning makes the situation more emotionally draining than it needs to be. If you are a widow or widower, or never married, who gets "the call?"
A 2022 CNBC report noted that 67% of Americans have no estate plan in place. Covid-19 increased awareness of the need for planning, yet procrastination still rules. Living and testamentary estate planning deals not only with the reality of death, but the likelihood of severe illness or injury along the way. Death or disability is not a respecter of age. Teenagers as seniors in high school or first year college students largely are age 18 or will be shortly. At 18, they're adults under the laws of most states. As an adult, if they're sick or hurt and you get a phone call, mom or dad, saying that they are in a hospital emergency room, under HIPPA regulation's (Health Insurance and Accountability Act of 1996), without a properly executed Heath Care Power of Attorney, you cannot get  information as to your loved one's status. All the hospital will want to know is who is respnsible for the bill? Who will bear the cost, emotionally and financially, of a failure to plan?
If you are an owner or co-owner of a closely-held business, most likely your largest single investment, planning for the "5 D's," death, disability, divorce, disagreement, or dissolution, also is a complex undertaking subject to procrastination.  Georgia businesses predominately are owned by baby boomers, 52% of whom are over the age of 60. Ninety-two percent of owners surveyed by the Exit Planning Institute in 2018 agreed with the statement, "Having a transition strategy is important for both my future and the future of my business." Yet, 54% of owners have no plans to transition. Most have no written contingency plans in place to deal with the "What if?" realities of business and life. Is that fair to your "family family" or your business family, those who will endure the financial and emotional repercussions of a stressful surprise?
Comprehensive personal and business planning deals with the uncertainties of life and death. Wills, trusts, powers of attorney for assets and health care, and advance health care directives, are basic planning considerations. A "pour over will" tied to a Revocable Living Trust may be apropos, especially if you own property in a state other than the one of your residence and/or want to simplify or eliminate probate. How are investment and bank accounts titled, in your name only or jointly with someone else? Beneficiary designations on insurance policies, annuities, or retirement accounts? Does your closely-held business have an up-to-date Operating Agreement? A good agreement spells out how an entity is structured and operates, and who controls the relationship with the members in a multi-member LLC.
This column does not constitute legal advice, as comprehensive planning should be done in concert with an advisory team that may include an attorney, CPA, CFP, and others with expertise in relevant matters, such as dealing with special needs family members, for example.
How old will you and those you care about be in ten years? And ten years after that? Tragedy is not a respecter of age, but as you grow older, the likelihood of serious difficulty increases. What's your plan for your "next ten?"