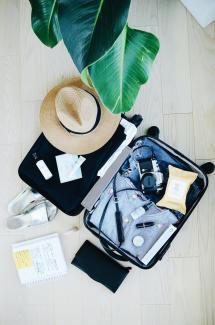 Time, Money, Travel, and Experiences
In January, 2021, Viking Cruises released a television commercial starring Viking Chairman Torstein Hagen. Philosophizing about the time pressures we all face, he counseled that time is something we should use wisely. Torstein opined that "most of  us don't have regrets about the things we did, but we can have regrets about things we did not do," like actualizing travel dreams, for example.
Echoing surveys that show that many people rate "experiences" more important than things or possessions, Torstein touts travel as a highly desired experience, "continuing to educate ourselves and broaden our minds." Traveling for pleasure in comfort began to take hold in the 20th century as modern steamships replaced sailing ships that were slow and more subject to wind and weather. In 1958, Pan Am introduced America's first commercial jet airliner, the Boeing 707, and the first transatlantic jet service from New York to Paris. Over time, air travel became more affordable, making even distant locales on our diverse planet accessible. Many credit Aaron Spelling's long-running 1977-1986 hit television show, "The Love Boat," as igniting popular passion for cruising for pure pleasure and relaxation.
Travel takes time and money, and that's where financial planning and goal-setting come in. The adventurous and curious don't want to wait until retirement to enjoy themselves. Many parents, as well as grandparents, want to take children on adventures, and cruising suits a myriad of interests and budgets. When it comes to a cruise vacation, you have an incredible range of options, the size of the ship being a major consideration.
In an article entitled, "What's Your Ship Size?," in the November 2022, issue of Global Traveler magazine, five categories of oceangoing ship sizes were detailed. It was suggested that you "select the cruise line and vessel category to fit your vacation style." "Mega ships" carry more than 3,500 passengers. The largest mega ship currently is Royal Caribbean's Wonder of the Seas. With sixteen passenger decks, the vessel can accommodate 5,734 passengers double-occupancy in 2,867 cabins, 6,988 passengers maximum. The ship is divided into seven neighborhoods with twenty restaurants and four swimming pools.
After "mega," comes "large ships," those accommodating 2,500 to 3,500 passengers. Like "mega ships," vessels of this ilk offer a somewhat dazzling array of onboard attractions. Norwegian Cruise Lines (NCL) newest ship, Prima, can carry 3,099 passengers double-occupancy. But "bigness" does not necessarily mean you will get lost in a crowd given contemporary designs. For those wishing and willing to pay for exclusive luxury at a premium, Prima offers "The Haven." This section of the ship includes world-class amenities, 24-hour butler service, and private elevators for Haven guests. Prima features a unique 10-story free-fall dry-drop slide for those wanting a rush!           
A large cruise enterprise like NCL may offer ships of different sizes and a variety of vacation options. NCL operates nineteen ships, at double-occupancy the largest carrying 4,266 passengers; the smallest, 1,936 passengers. The latter fits into the "mid-sized ship" category, vessels with total passenger capacity of 1,500-2,500. The next size category down features "small mid-sized" ships with a total capacity of 800-1,500, vessels common with Oceania, Viking, and HollandAmerica. Oceania's newest ship, Vista, with a passenger capacity of 1,200, has a particular focus on outstanding cuisine with eight dining options and no surcharges for specialty restaurants.
For seasoned and well-heeled travelers seeking unique itineraries in often less visited realms, geography and ports off limits to large ships, much excitement is being generated in the "small ship" category, vessels accommodating less than 800 passengers. The Ritz-Carlton Yacht Collection recently introduced vessels featuring 228 luxury suites, all with private terraces. The "small ship" category is increasingly popular with multiple offerings from Ponant, Silversea, Seabourn, Windstar, Regent Seven Seas, Celebrity, and others. "Expedition cruises" in this category may feature ships outfitted with Zodiac inflatable boats for explorations and landings on remote beaches led by guides and naturalists, kayaks, submersible vessels, and, often, tie-ins with organizations like Smithsonian Institute and National Geographic Society. Ships capable of exploring polar regions, including Antarctica, provide a range of unique experiences. Ponant's largest expedition ships carry up to 264 passengers double-occupancy in luxurious staterooms with private balconies while offering outstanding French-inspired cuisine and beverage service.
You have a confusing array of choices beyond ship size. Families must consider the diverse interests and capabilities of varying ages. Overall cost is a major factor. You must weigh destination, port visits, days at sea, cabin size and type, length of the itinerary, quality of food and beverages, choices of dining options, entertainment offerings. Is airfare included, or can you elect "cruise only" and drive to a port or make you own air arrangements?  These are only some of the questions.
As with a financial  planner, engaging an experienced and knowledgeable travel agent is encouraged. The agent can match your travel desires and budget to an appropriate ship and itinerary, often securing discounts and deals. Ships have distinct personalities, as do you. Our Creator's world is an amazing place. It deserves an in-depth look!