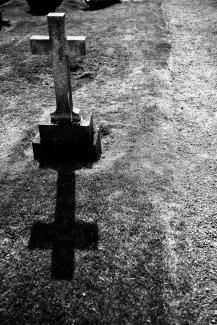 Why Do We Have to Suffer?
Fundamental to successful financial life planning is understanding the known vagaries of life and strategizing how best to deal with them. There are certain "known knowns," as Donald Rumsfeld, former U.S. Secretary of Defense, famously observed, among them the inevitability of death and the likelihood of suffering along the way, whether from injury, sickness, or other bodily or emotionally related happenstance. Painful and disruptive occurrences are not pleasant to think about so it's easy to defer advance planning in favor of more pressing or more enjoyable life circumstances.
These thoughts came to mind on Holy Thursday during Holy Week, on the day before Good Friday, as Christians contemplated the last week of Jesus' life on earth. Holy Thursday commemorates the Last Supper and the institution of the Eucharist and new priesthood. It was the night that Jesus was betrayed by Judas and arrested. Good Friday focuses on the passion of the Lord, his scourging, the carrying of his cross while in excruciating pain, and his bloody crucifixion and death on the cross. This was the Son of God, our Creator, sharing fully in our human condition, suffering rejection, humiliation, pain, emotional distress, and a gruesome death. All of this was a prelude to the good news of Easter and of resurrection.
As mortals with complex and interdependent bodies and souls, we do at times endure excruciating pain and emotional anguish. The adjective, excruciating, stems from the Latin words excruciatus and excruciare.  These were Roman words meaning "to afflict, harass, vex, torment," in a manner as gruesomely painful as a crucifixion. The crucifixion process produced suffering so intense that new Latin words came into usage to describe them, and they exist today in English as the root of excruciate. Excruciating may also seem to apply to the pain caused by tedious tasks, paperwork snafus, or long waits, such as those suffered by both the patient and loved ones in overburdened emergency rooms and hospitals.
If you are an adult age 18 or older in Georgia and need medical attention, you are protected by federal privacy laws regarding your medical condition. However, in a serious circumstance you may not be able to make rational decisions about your care or be able to communicate your wishes. This also applies to end-of-life care. Someone you know, someone who loves and cares about you, someone who understands your wishes and religious preferences, should have the authority to work with doctors, hospitals, and emergency workers, legal authorization to make decisions that he or she knows reflect your wishes and values.
The person to whom you delegate power of decision-making, and a backup person if the primary designee is not available, may be contained in legal documents such as a Living Will, an Advance Directive for Health Care, or a Durable Power of Attorney for Health Care. You can easily find sample documents on the Internet, but a better option is an overall and comprehensive living and testamentary estate plan formulated with the guidance of an experienced financial advisor who can coordinate with an estate and trust planning attorney, along with input from those busy loved ones who may have to step in on your behalf. Medical care overall, and end-of-life care in particular, is complex with all parties demanding reams of paperwork and funding to protect them from, among other things, rising costs, complex malpractice and legal claims.
The Archdiocese of Atlanta recently published a new Georgia Advance Directive for Health Care in conformity with Catholic teaching. Whether you are Catholic or not, the document is worth reviewing as it contains important things to consider relative to a myriad of choices. See https://archatl.com/wp-content/uploads/2020/01/georgia-advance-directive-catholic-teaching-2015.pdf
Baby Boomers, with the oldest turning 77 this year, remain a massive population cohort and long-term care represents the single largest potential financial and emotional burden for seniors and their families. A recent article in the Atlanta Journal-Constitution (4/2/23) noted that costs for 40 hours of weekly home health assistance can exceed $56,000 per year. Nursing home intensive care can cost someone an average of $120,000 per year out of pocket unless one qualifies for Medicaid. While sometimes a son, more often it's a daughter who steps up to take care of mom or dad, or grandma or grandpa. She is likely to be in her late 40s or early 50s with children of her own with demanding needs, including education and car pooling, while juggling work and other challenges. What's your plan for family care, including time, money, and resources?
Those who are young and healthy may not think they have a stake in such planning, but accidents, serious illness, and death, do not respect age. Making decisions to cope with the vagaries of life is best done in a period of calm, not under duress, stress, pain, and immediacy. The life of Jesus teaches us many things, including the reality that life is relatively short when measured against eternity. The excruciating pain and suffering of our Lord God Creator were meant as a lesson for us all.
Suffering, whether physical or emotional, is part of our human condition. You can respond in ways that are destructive, such as aggressive actions, anger, excessive drinking, drugs, imprudent and immoral behavior. Or you can respond in positive ways that illustrate life lessons well learned, a process that builds character and resilience. A life of purpose and meaning, one of gratifying success and happiness, is about choices. Choose wisely!